Chicken in garters - Pancake with caramel and orange
Regular blog Nina Řeháčková, hipsterky, moms 2 guys and a great cook. "I draw inspiration from everywhere around you. It's not just about a specific place, it is also a situation that is happening to me during the day. I prefer writing posts along with recipes, that day and cook over whom think. I cook to your taste, the taste of friends or my children.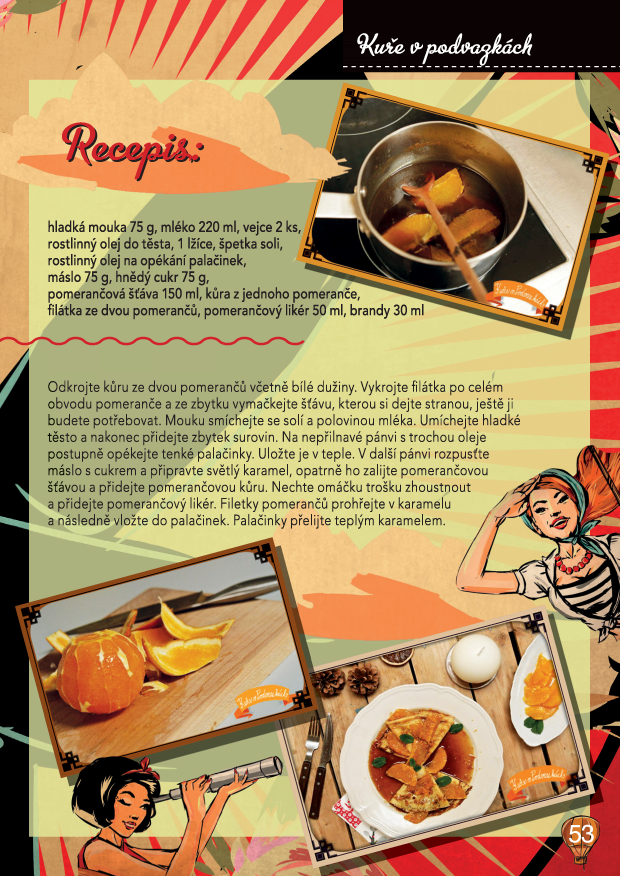 Pancake with caramel and orange
In 1895, in Monte Carlo Café de Paris prepared when 14-year-waiter assistant Henry Carpentier dessert for the English Prince of Wales, the future King Edward VII. It was a pancake watered orange liquer and it accidentally caught fire. Prince and his friends were sitting at the table, waiting for his dessert, and it was unthinkable that a young Henry did not bring anything to the table. But Henry remained calm, duchapřítomě pancake folded twice and everyone oi he remained in awe of the delicious harmony of flavors. Thus unexpectedly and coincidentally was the most famous variations on crepes - crepe Suzette, named after the beautiful, charming french Suzette, which hosted the prince on that day at his desk. Suzette pancake loved among others icons of the era hippies, stars such as Jimi Hendrix and Janis Joplin. This delicious dessert perfect, correspond local flavors will be the star of the evening, after a perfect dinner or just a sweet pleasure for someone whom you love with all my heart.
Prescriptions
75 g flour, 220 ml milk, eggs, 2 pieces,
vegetable oil into the dough with 1 tablespoon, a pinch of salt,
vegetable oil for browning pancakes,
butter 75 g brown sugar 75 g
150 ml orange juice, rind of one orange,
fillet of two oranges, orange liqueur 50 ml, 30 ml brandy
Cut the zest of two oranges including white pith. Cut out fillet around the perimeter of the rest of oranges and squeeze the juice that you put aside more you need it. Mix the flour with salt and half the milk. Umíchejte smooth dough and then add the remaining ingredients. On a nonstick pan with a little oil gradually fry thin pancakes. Save them warm. In another pan, melt the butter with the sugar and prepare light caramel, gently pour the orange juice and add the orange zest. Allow the sauce to thicken and add a little orange liqueur. Fillets Warm oranges in caramel and then insert into the pancakes. Pour the hot caramel crepes.