Wandering around cannabis clubs in Europe (2.)
---GOOGLE TRANSLATE--- SPAIN: We visited for you private clubs, where no ID cards get a club member or just to guarantee a VIP member.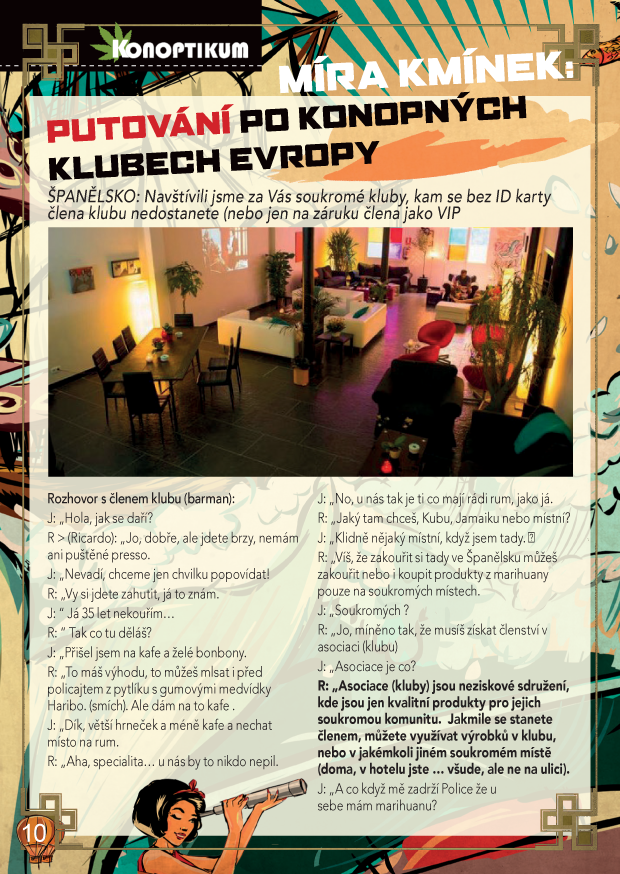 Interview with member of the club (Bartender):
J: "Hey, how you doing?
R> (Ricardo): "Yeah, well, you go early, I do not even released by espresso.
J: "Never mind, just want to talk just a minute!
R: "You go zahutit, I know.
J: "I'm 35 years old smoke ...
R: "So what are you doing here?
J: "I came for coffee and jelly candies.
R: "That's an advantage that you can munch on even before the cop from the bag with Haribo gummy bears. (Laughs) But I give it some coffee.
J: "Thanks for larger cup or less of coffee and leave space for rum.
R: "Oh, specialty ... he would never drank.
J: "Well, here it is those who are fond of rum, like me.
R: "What do you want, Cuba, Jamaica or a local one?
J: "Sure local when I'm here.
R: "You know you smoke here in Spain you can smoke or even buy products from marijuana only in private places.
J: "Private?
R: "Yeah, mentioned that you have to gain membership in the association (club)
J: "The Association is what?
R 'Associations (clubs) are non-profit associations, where only quality products for their own community. Once you become a member, you can use the product in a club, or any other private place (at home, at your ... everywhere, but not on the street).
J: "And what if I detain Police that got marijuana with him?
R: "When something odnášíš, put into a bag and fix it with a sticker that's your private goods. Then Nothing's gonna happen, but do not open the street or sell. It is a criminal offense.
J: "What club?
R: "Like everywhere .. Inside the club, we have a bar, pool table, Playstation 4 and Xbox One with retroprojectors, DJs and usually belong ... and much more! You called, come!
J. "Thanks for the invitation, how can I be a member of the club?
R: "All those who are interested in joining us, they can ask for any information via email or private message, we will inform them. Count, but that will be asked for ID or passport number.
J: "Thanks ..
R: "And I hope to see you again!
Clubs where they still busily building. In one such I found two guys at work. Short of that conversation, but it is.
Me: "Hey, I long to disturb a few otázeček."
Carpentry: "Hey, nothing happens, we will not rush anywhere."
(This is true in Spain in a hurry ...)
Me: "But siesta is still early, is not it?"
Carpentry: "It's hot, so he must work slowly."
Me: "What you produce,"
Carpentry: "There will be such a terrace, and then such a fence and some flowers on."
Me: "Do you have it nice here, but still a lot of work."
Carpentry: "Also we like it here and why we do it."
Me: "Do you do for the club for the money?"
Carpentry: "Well, so can not say we are members, so we are doing it for themselves."
Me: "So, that's praiseworthy."
Carpentry: "He has the head of" something "can be too free." (Laughs)
Me: "So such a barter?"
Carpentry: "Probably so."
Me: "That goes to check, so I'd better go. Thanks "
Wandering around cannabis clubs in Europe (1.)